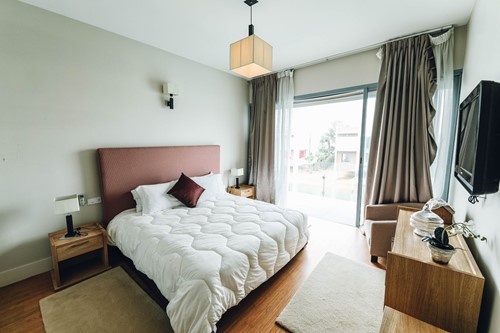 The window dressings in your bedroom can be as important aesthetically as they are functionally. Choosing the right curtains for the size of the windows and the design of the room can make an enormous impact on the look and feel of the bedroom. If your bedroom needs new curtains, here are some excellent ideas to start with:
Cozy Monotones
No matter what color scheme you have in your bedroom, using the same tones in your curtains is a smart choice. Mixing monotones creates depth and coziness, especially in smaller spaces. Try hanging curtains in the primary color used in your bedroom but with a contrasting texture.
Picking the Right Patterns
Patterns work well for curtains as long as you make the right choices. Larger patterns are better suited for large windows, while smaller, more detailed patterns are fantastic for small windows. Depending on the window situation in your bedroom, there are many pattern options that could work well. Try classics like gingham, wide stripes, chevron or even simple florals.
Sheer & Pleated Layers
Layered sheer curtains add instant coziness to any room. In a bedroom, they also help maximize natural light while creating an open and airy feel. Try layering soft chiffon panels for a classic, romantic aesthetic that pairs perfectly with overstuffed bedding and plush accessories.
Statement Colors
Curtains are an excellent way to use a bold new color in your bedroom design. Choose something that will add a pop of contrast without looking busy or out of place. The easiest way to do this is to carry the same color through in other parts of the room. For example, you could match the curtain color to certain accessories or small furnishings like end tables.
Graphic Prints
Bedroom curtains provide a fun opportunity to use bold graphic prints. While these same prints might not work on other furnishings, they can make a statement in a bedroom—and are easy to swap out if you change your mind. Large-scale botanical prints are a popular trend in bedrooms, as are geometric designs for a more modern vibe. Try coordinating the colors with the rest of your bedroom palette to keep the energy cohesive and vibrant rather than busy.